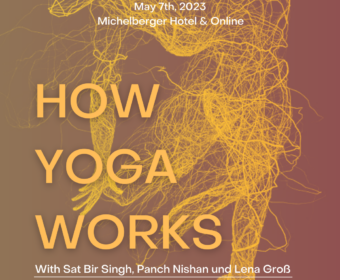 Understanding the Science and Research on Yoga and its Application for Anxiety, Stress and Burnout
Expert Talk + Yoga and Meditation + Q&A
May 7 // 2 – 6 pm // Michelberger Hotel Berlin & online // TICKETS
Learn and experience how yoga can be applied as a strong supportive technique to help with the common challenges of our times: exhaustion, fatigue, anxiety and chronic stress.
Sat Bir Singh, world leading yoga researcher from Harvard Medical School will outline how Yoga works in a neurophysiological way and will show the latest results on how yoga works as a very profound therapy in anxiety disorders, how it helps to reduce stress and what exactly is happening in the brain/body system.
Sat Bir will present these explanations and insights in his very unique way of sharing his immense knowledge and experience in an understandable and fascinating way. That will enable you to spread your own passion about Yoga and Meditation with even more consolidated knowledge. This workshop will enrich yoga teachers and practitioners of all styles by learning about the research and science behind how yoga works, broadening your vocabulary to expand your reach. And it might also serve you as a strong motivation for your own practice and to motivate and guide others.
And of course we will dive into these outstanding techniques ourselves. Panch Nishan and Lena Groß will guide you into your own experience of scientifically applied practices of Yoga and Meditation to explore deeper and deeper how these techniques are working on your own system.
This understanding of how Yoga works is universally applicable for any Yoga tradition and style.
Everyone is welcome, if you are new to yoga, if you practice regularly or if you are teaching yoga and would like to get started to use the techniques of yoga in a more therapeutical way in the health field, within institutions or in the businesses realm.
Bring all your questions and curiosity how we cand find scientific approved yogic answers to challenging times.  
---
Sat Bir Singh Khalsa, Ph.D. is the Director of Yoga Research for the Yoga Alliance and the Kundalini Research Institute, a Research Associate at the Benson Henry Institute for Mind Body Medicine, a Research Affiliate at the Osher Center for Integrative Medicine, and an Associate Professor of Medicine at Harvard Medical School at Brigham and Women's Hospital. He has conducted research on yoga and yoga therapy since 2001 and has been a practitioner/instructor of Kundalini Yoga since 1973. His research has evaluated yoga for insomnia, chronic stress, and anxiety-related disorders, and in workplace and public school settings. He works with the International Association of Yoga Therapists promoting yoga research as scientific director for the annual Symposium on Yoga Research and as editor-in-chief of the International Journal of Yoga Therapy.
Panch Nishan has been teaching Kundalini Yoga worldwide for over 22 years from Chile to Egypt, Iceland to China; a life-long path/love/passion sparked from discovering Yoga at the age of 14. She took the chance to live in an ashram for many years, study and work directly with a Master of Kundalini Yoga, Yogi Bhajan. Many years later, love inspired her move from the USA to Berlin where she currently lives with her husband and son. She passionately facilitates Kundalini Yoga teacher trainings, classes, workshops and retreats that support people to tap the well of energy within and live a fulfilling life, rather than one filled with stress and burn-out. As a systemic coach and trainer with a background in organizational leadership she is constantly spearheading change in her own life and facilitating change in those she serves. Creating a positive impact in this world lies at the heart of all her endeavors!
Lena Groß works as a yoga therapist at Immanuel Clinic Naturopathy and Rheumatology Berlin-Wannsee and in private practice. She teaches Kundalini Yoga in classes, workshops and retreats since 2009 and works as a nonmedical practitioner for psychotherapy. To companion people on their paths healing body, mind and soul is her heartfelt wish and passion. Her strong motivation is to spread the uplifting techniques of Yoga to really everybody – no matter how limited health or body functions might seem. And she does that with loving presence, appreciative empathy and a deep understanding for traumatic structures. A profound background on Ayurveda lifestyle and medicine which she studied at Greystones Panchakarma Center in Sri Lanka serves her additionally for a holistic understanding of physiologic and psychologic well-being. At the moment she facilitates the intervention in an ongoing comparative Charité study "Yoga for women with breast cancer".